If you value your privacy and are nervous about spreading your identity around a bunch of dating sites and apps it's important to know how to make your profile private. We've compiled a list of the top dating accounts and how to keep your identity secure while using them.
Make your profile private on Bumble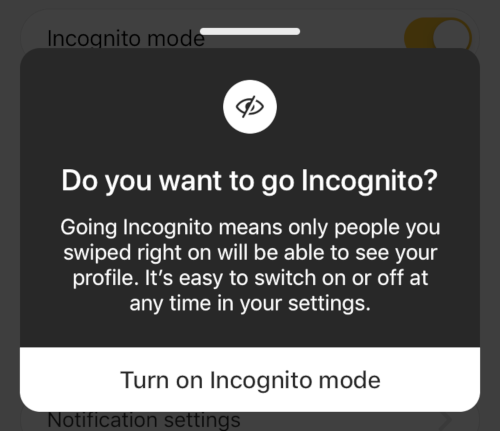 Incognito Mode
Bumble has an incognito mode you can turn on which allows you to use a hidden profile. This will allow your profile to be seen only if you swipe right. This is a paid feature and you'll have to upgrade your Bumble account to use it. You can find incognito mode on the settings screen.
This feature is different from the snooze function available on the free version which allows your profile to be seen only by your current connections. You can choose the length of time you want your profile hidden when you toggle the option on and you can choose a custom away message.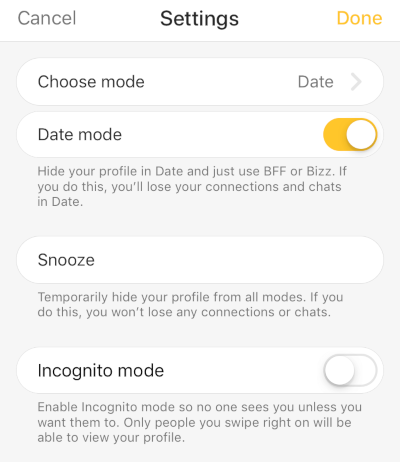 Snooze vs Incognito
Using the snooze function has the benefit of being available on the free subscription to Bumble, unlike incognito which is only available for paid members.
Snooze allows you to hide from all members and is ideal if you are temporarily unavailable. It also allows you to schedule how long you will be away and set custom away messages.
Overall if you are looking for a way to make matches privately without putting your identity at risk, your best bet is to use the premium version of Bumble and toggle on the incognito setting.
Make your profile private on Tinder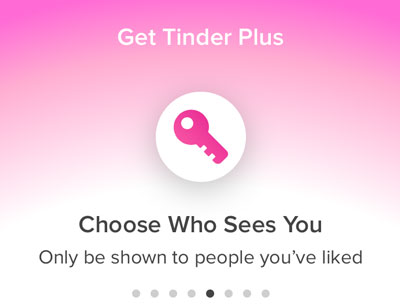 Tinder Plus
Similar to Bumble you can set your profile to private on Tinder, however it requires you to have an upgraded Tinder Plus account. The price for a Tinder Plus account varies based on the length of your subscription.
You can choose how your profile appears using either the standard option, or setting it to only show your profile only to people you've liked. Using this function, your photos are private and they can only be seen if you swipe right, if you swipe left your profile won't be seen at all.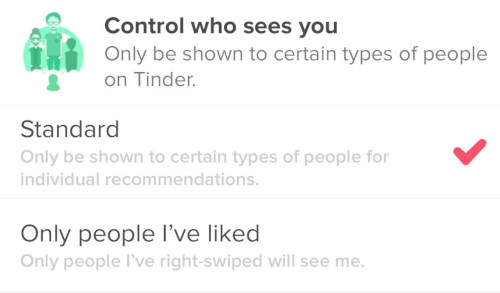 Other Options
Additionally, with the free account, you have the option to toggle viewing of your profile on and off from the settings menu under the 'Show me on Tinder' option. Using this you will not be viewable in the card stack but people you have previously matched will be able to see and contact you.
Make your profile private on Zoosk
Hide, Seek, and Sneak
If you are an upgraded member you can use the 'Hide and Seek' function to control your privacy on Zoosk. The three options are: hide, seek and sneak.

Using hide will allow you to hide your profile so the only people who can see it are those you message first. Seek is the base setting, allowing people to see and interact with your profile as usual. The sneak function allows your profile to be fully viewable and check people out without letting people know you've viewed their profile.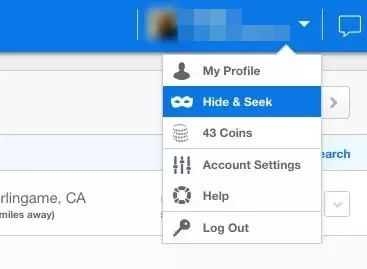 The catch to having all these options is it's considered a premium feature which means an additional fee on top of being an upgraded member. To purchase this upgrade, select the option via the settings menu and submit your payment information.
Once you have paid you can access it via the settings drop-down bar near your age and location. For non-premium members, there is also an option to pay for 30min at a time of 'invisible' mode which allows you to browse people's profiles without alerting them. This is available in the same drop-down bar.
Make your profile private on Millionaire Match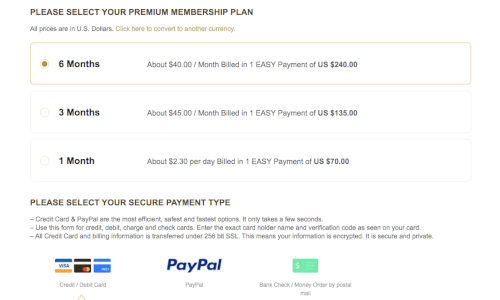 Membership
You can hide your profile from ALL members with the free version, however, this makes it functionally impossible to meet people and therefore is mainly for if you want a break from the app. To control who can view your profile you'll need the premium membership.
As a premium member, to change who can view your profile, hover your mouse over the gear icon and select the 'settings' option via the drop-down list. You will find a number of options available to toggle on and off including;
Hide from all members except favorites
Hide from women
Hide from men
Hide from standard members except for favorites
There is also a variety of settings available for hiding your activities and photos. This site has some of the most diverse options for browsing privately in this list.
Make your profile private on OkCupid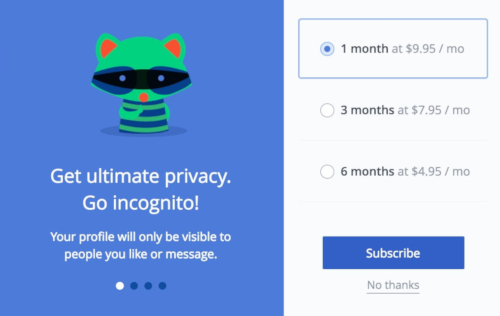 Incognito
The incognito mode on OkCupid allows your profile to be visible only to people you like or message.
If someone you have not initiated contact with attempts to find your profile, they'll see a message stating that profile does not exist. This is a paid option and the price varies based on the length of purchase. There is unfortunately no equivalent free option for this app.
To purchase Incognito Mode, simply type "/incognito" into the browser bar when you're logged in (eg. www.okcupid.com/incognito). To turn this function on and off you can find the 'settings' button by clicking your photo on the top right of the screen. After clicking 'settings' select 'privacy' and from there you can toggle the incognito function.
Make your profile private on The League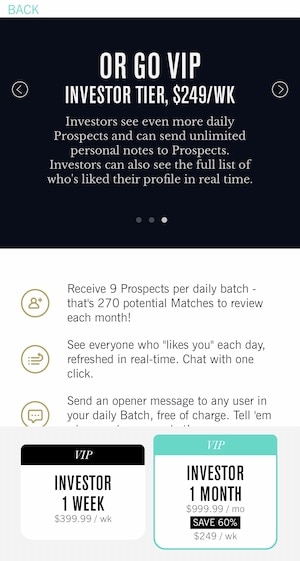 VIP Membership
To browse privately on The League is not cheap. You'll need to buy into the Investor level which costs $999 for 1 month or $399 for 1 week. You can unhide your profile by using 'Power Move' to contact a match. This 'Power Move' gives you other benefits as well.
You can change your viewing and privacy settings in the 'privacy' section of the settings page. From here you can block specific users, email addresses, known coworkers, and/or all profiles unless you use a 'Power Move' first.
There isn't an equivalent free version of this function so if you are determined to browse privately then the VIP membership is your only option. Besides offering privacy, the VIP membership offers you the ability to see who likes you every day, concierge support, and access to 9 daily prospects.
Make your profile private on Match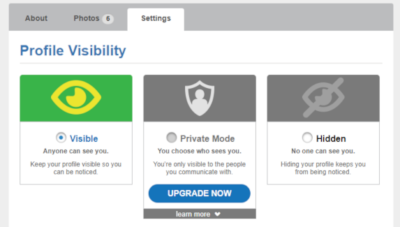 Power Up
Private mode on Match.com is a paid service that can be activated via the 'Power Up' button at the top right of the screen. You can then select it from the menu of available features and toggle it on and off from the settings screen. If you do not want to upgrade your only option for privacy is to completely hide your profile, which is only ideal if you would like to take a break from the site completely.
This function does not affect people you have already initiated contact with previously, though it will restrict viewing of your profile rendering you essentially invisible. If you contact anyone new, they will automatically be able to see your profile from that point forward. This contact includes: accepting event invites, liking or commenting on their photos rating them as 'Yes' in your daily matches.